What is OpenSceneryX?
OpenSceneryX is a large collection of 3D objects that scenery developers can use to build sceneries for the X-Plane® flight simulator. It can also override some of the built-in X-Plane® content.
If you are a scenery developer, it can save you a lot of time and effort.
If you are not, you may still need it because the scenery you install uses it.
Do I need OpenSceneryX?
If you don't install 3rd party scenery packages or add-ons for X-Plane®, you probably don't need OpenSceneryX *
If you only install scenery packages from the X-Plane® Gateway, and no other add-ons or plugins, you probably don't need OpenSceneryX *
Otherwise, because a very large number of 3rd party scenery packages and some 3rd party add-ons developed for X-Plane® use OpenSceneryX, if you download a package from x-plane.org or another website, it is quite likely you will need to install OpenSceneryX to see the package or add-on at its best.
Finally, if you are a scenery developer yourself, OpenSceneryX could save you a lot of time as it contains a large number of pre-made, instantly usable items to enrich your scenery package.
* Recent versions of OpenSceneryX give the option of overriding and enhancing some of the built-in X-Plane® content – for example, the forests and static aircraft. So you may still want to install OpenSceneryX and use this feature even if you don't install any scenery packages that use the library.
What does OpenSceneryX Contain?
The easiest way to find out is to roam around the six categories of item in the library:
If you are a scenery developer, there is also a PDF reference manual in the Developer Pack, which is available here.
Can OpenSceneryX be used in X-Plane® version xxx?
OpenSceneryX is compatible with all versions of X-Plane® from 8.6 onwards, including X-Plane® 10 and 11.
How do I install OpenSceneryX?
Please download the OpenSceneryX installer from the home page of the www.opensceneryx.com website. Take a look at our instruction videos on YouTube for new users:
As a word of warning, it seems there are a couple of places elsewhere on the Internet that have taken a copy of the library and are hosting it (and in some cases charging for the privilege of downloading it).

We strongly suggest you avoid doing this for the following reasons:

• We can't vouch for the content, so these downloads may contain viruses or other issues.
• The versions we have seen are out of date, so you won't get the latest updates.
• It's potentially illegal. If a site modifies the library in any way or charges for access to downloads, this is breaking the terms of the license.
• OpenSceneryX is and always will be free. No money you pay to any third party site comes to us. If you would like to make a donation to the project, please use the PayPal link in the footer (and thank you very much!).
How do I update OpenSceneryX?
If you previously downloaded the installer, just re-run it again. It will detect any changes and update your installation. If you have deleted the installer, just download it again from the home page of the www.opensceneryx.com website.
How often do I need to update OpenSceneryX?
Keep an eye on the news section on this site, our Twitter feed, r/Xplane on Reddit, the x-plane.org forums, the ThresholdX forums and our Facebook page as we post updates to all these locations when we release a new version. If you're not sure whether you have the latest, just re-run the installer and it will sort out your install.
Why is the installer a different version to the library?
Updates to the installer and the library are released at different times. Back in the mists of time, the version numbers used to be in sync, but because there are more library releases than installer releases, nowadays the installer version is always lower than the library.
When you run it, the installer will tell you if it is out of date and will ask you to download a new version. The latest installer is always available from the website home page.
How do I uninstall OpenSceneryX?
To remove the library from X-Plane®, go to your X-Plane/Custom Scenery folder and delete the OpenSceneryX folder from inside there. To remove the installer, just delete the zip file you originally downloaded and the folder you extracted it to.
You can safely delete the installer without affecting the library. If you have deleted the installer but want to update the library again, just download a new installer from the website home page.
I have several X-Plane® folders, what do I do?
You have two options:
Run the installer multiple times, when it asks you for your X-Plane® location then change it to the X-Plane folder you want to update.
Run the installer once, then when it has finished go to the X-Plane folder you installed into, look inside the Custom Scenery folder and copy the OpenSceneryX folder from here into the Custom Scenery folder in your other X-Plane® install.
I've heard library xxx is now included with OpenSceneryX, can I delete it?
Fully Incorporated Libraries
The following third party libraries are now fully incorporated into OpenSceneryX, so you no longer need to keep them in your Custom Scenery folder:
RE Library* by Richard C Elliott (einstein)
FlyAgi Vegetation Library by FlyAgi
FlyAgi Wind Turbine Library by FlyAgi
DT Library by Darrell Thompson
FlyAgi Vegetation Global Trees† by FlyAgi
However, please note that some of these libraries are still being developed and extended by the original developer. We will try to keep up to date with any changes, but if you want to use an item that has been recently added to a third party library, you may need to install it until that item gets incorporated with OpenSceneryX.
* 15 objects from RE Library are not incorporated as they are considered world unique. Because OpenSceneryX is a general purpose library, we do not include world unique objects as we believe those should only be in the individual scenery packages that need them. These 15 objects have been replaced by empty placeholders.
† Almost everything that Global Trees does is incorporated in OpenSceneryX, with the exception that we don't alter any textures in your X-Plane® Resources folder, which the full install of Global Trees does.
Libraries with All Content Incorporated
The following libraries have had all their content incorporated, but because the contents had to be significantly changed during this process, you will still need the third party library installed to support older scenery packages that use them:
Flags of the World by Mr 3D and Chris Noe. All flags have been rotated by 90° to conform to the OpenSceneryX standard.
Flags of the USA by Mr 3D and Chris Noe. All flags have been rotated by 90° to conform to the OpenSceneryX standard.
Libraries with Some Content Incorporated
The following libraries have had some of their content incorporated, but the libraries have not been merged:
SAM Seasons SDK. The core seasonal content has been incorporated, but not the additional colour sets.
SAM GlobalTrees. This library supersedes the FlyAgi Vegetation Global Trees library (which was designed to replace X-Plane®'s core forests with higher definition versions). However, FlyAgi's original library was not seasonal while SAM GlobalTrees is. Currently, OpenSceneryX contains just has the summer versions of the forests, but full support for SAM GlobalTrees and seasons is planned.
Why does the installer run as Administrator on Windows, isn't this dangerous?
X-Plane® can be installed to a multitude of different places on your disk. Historically, it usually went into your Program Files or Program Files (x86) folder but nowadays those folders are protected by Windows®. To avoid being swamped by tech support calls (90% of all support requests were about this issue), more recent versions of the installer automatically run as Administrator to avoid failures when the X-Plane® folder is in a protected place.
As for being dangerous, you should only allow applications to run on your machine that you trust, and this is especially important when those applications try to run as Administrator. So you need to answer this question, not us: Do you trust the OpenSceneryX project?
We can't answer it for you, but we can hopefully provide evidence that enables you to trust the project:
The source code for the installer is all available for review and is published here: https://github.com/OpenSceneryX/Installer
The project has been running for over 12 years now and there has never been any reported issue with it doing nefarious things on users computers. If there were problems, users would very likely be posting all over internet forums such as x-plane.org.
The installer is displaying a permission error on macOS
If the installer displays the following error:
There was an error creating the local file, do you have permission to write to the X-Plane folder structure?
Try following these instructions from Laminar Research, the developers of X-Plane®, even if your X-Plane® folder is not in /Applications.
The installer crashes or fails to launch on Windows 10
This may be caused by corruption in your system, for example one user reported that this can be caused by a faulty rundll32.exe system file. If you have persistent problems, following these instructions from Microsoft may be useful to repair your system:
The installer crashes or fails to launch on Windows 7
Firstly, ensure you have Service Pack 1 installed, and your system is fully updated. If you are still having problems then try both of the following:
Right-click the .exe, choose Properties, and click the Compatibility tab, then choose to run the application in Compatibility Mode for Vista.
Right-click the .exe and select 'Run as Administrator'
If it still doesn't work then unfortunately you may not be able to use the installer on your system. Either upgrade to Windows 10 or get in touch.
The installer complains about missing XojoGUIFramework64.dll on Windows
You are trying to run the installer from within the zip file. Instead, extract the zip first by right-clicking it and selecting Extract All… then go to the extracted folder and run the installer from there. For a full walkthrough, see the YouTube video above.
The installer complains about missing api-ms-win-crt-heap-l1-1-0.dll on Windows
The installer requires something called the "Visual C++ Redistributable" from Microsoft. All modern Windows operating systems have this incorporated, including Windows 7 and 8 if you have automatic updates switched on. If for some reason you are using an out of date version of Windows though, you can download the Visual C++ Redistributable from here:
Visual C++ Redistributable from Microsoft
The installer gets to the download screen but hangs when starting to download files
Check your Firewall settings to ensure outbound network connections are allowed from the OpenSceneryX Installer application.
The installer downloads a load of files but then hangs on Windows
For some reason, the installer gets stuck on a number of Windows machines, both old and new. We are trying to find this problem but there is a workaround: Quit the installer when it gets stuck and immediately re-run it. Don't delete anything from your file system, just re-run the installer and it should finish downloading the remaining files.
The installer runs very slowly, even on a fast network connection
There are a couple of known causes of this:
Some anti-virus programs can dramatically slow down the installer. Check your antivirus settings – you may need to temporarily disable dynamic checking on file downloads until the installer has completed. This has been reported with Avast Antivirus but may affect other antivirus tools.
Installing X-Plane on a shared drive (network or cloud storage – OneDrive, iCloud, Google Drive etc.) can slow down the installer and cause errors. If you want to use shared storage, consider installing OpenSceneryX to a local hard disk and then copying it across to your shared drive once the download has completed.
If you are in Indonesia, there are ongoing problems with the Telkom / SEL (Indihome / 4G) ISP and Cloudflare, which are discussed in many places including here. Please get in touch with Telkom to resolve this issue.
The installer doesn't run on Linux
Please ensure you have the prerequisite libraries installed in your distro. System requirements are listed here.
I can't extract the Installer zip using 7-Zip
We have had reports that if you extract the installer using 7-Zip on Windows, it doesn't extract properly. We haven't been able to replicate this, but if you are having trouble please use the built-in Windows zip extractor (right-click the file and select 'Extract here').
I am seeing red boxes all over the place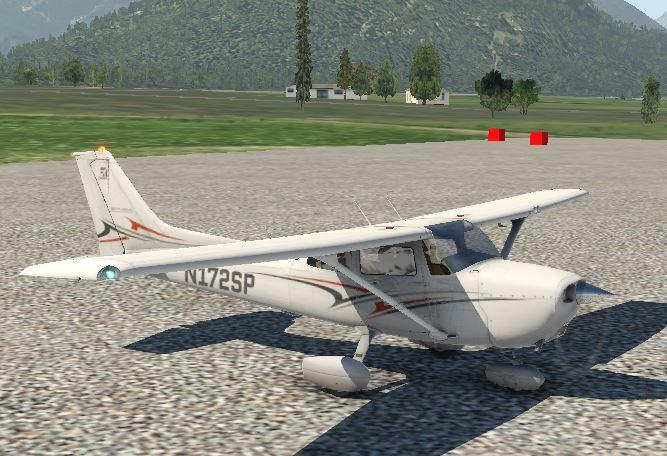 The little red boxes are coming from the Backup Library. You may start seeing these after installing OpenSceneryX because the Backup Library is included in the OpenSceneryX install.
The Backup Library does one thing: Provides a fallback for all known X-Plane® libraries, in case the real library isn't installed on your system. By default the fallback objects / facades / forests etc. are invisible but the OpenSceneryX installer (at stage 4 "Settings") gives you the option to show visible (red) placeholders so you can see where you have missing library items.
The installer also provides the option to switch off the Backup Library altogether. If you do this, then X-Plane® will show pop-up warnings letting you know which libraries are missing.
I'm a scenery developer, how do I use OpenSceneryX?
Download the latest developer pack from here: – full instructions explaining how to use the library are included. Also included is a complete PDF reference manual with screenshots of every item in the library.
We also have a series of videos available on YouTube to help scenery developers use OpenSceneryX:
I cannot submit my scenery package to the Airport Scenery Gateway
Because of Laminar's policy, no scenery package containing references to 3rd party libraries (including OpenSceneryX) can be submitted to the Gateway. You will see errors similar to this on validation in WED:
Error: The library path '……' is not part of X-Plane's default installation and cannot be submitted to the global airport database
Because of the policy, there is no way around this. If you wish to submit your airport to the Gateway, you must remove all third party references. The simplest way of doing this in WED, after making a backup of your airport, is choosing Select -> Select Third Party Library Items and then delete them.
How do I work with both OpenSceneryX and the Gateway?
Although you cannot submit any airport containing OpenSceneryX references to the Gateway, you might still want to submit a basic package to the Gateway while working on an enhanced package that uses OpenSceneryX content. So, to make it as easy as possible, we recommend the following workflow in WED if you want to work with both OpenSceneryX and the Gateway:
Import the airport you want to work on from the Gateway
Edit any core Gateway-compatible items, keeping the default folder structure intact.
Create a new subfolder in the hierarchy pane within your airport for any 3rd party references (including OpenSceneryX) called something like '3rd party'.
Ensure everything you add that comes from a non-Laminar library goes into this '3rd party' folder.
When submitting to the Gateway, make a backup of your project then temporarily delete the '3rd party' folder from your project, and reinstate it after submission.
If at any point in the future you need to refresh your airport with the latest changes from the Gateway:
Simply re-import from the Gateway again, which will create another entire copy of the airport, fresh from the Gateway.
Move your '3rd party' folder across from the old airport to the new one.
Delete the old airport folder.